My desire to become an entrepreneur began with my family: my father and my grandfather are entrepreneurs. I finished high school and I went to College in accounting and management because I thought I wanted to build a company later on, but I did not know yet what kind of business it would be.
In fact, it all started when I was working part-time at a convenience store. I saw a cell phone for sale on Facebook and I decided to buy it. I then posted an ad on Facebook and resold it for $100 more in just 15 minutes. Working at the convenience store, I was making $10 an hour, and in selling this phone I had made $100 in only 15 minutes. It really was at that point that I realized that I wanted to be an entrepreneur because I could have what I wanted, I could decide what I wanted to do with my time, no one could tell me what to do, everything was possible and there would be no limit to what I could achieve.
With this new decision, I decided to announce to everyone on my facebook that I was now selling cell phones. I then received at least 50 messages from people who wanted iPhones. I had no phones in hand but I told people that everything was perfect and that I had phones for them. I thought I could find a phone provider but I realized that it did not exist. So I decided to ask all the people who had messaged me for a $150 deposit towards their new cell phone because I told them that there were so many people who wanted phones, and if they wanted to be sure to get one, they had to give me a deposit.
With deposits in hand, every Friday, I contacted all the people who were selling cell phones in my city and negotiated to buy them for about $150. Then I returned home and resold them for $250, so I had a profit of $ 100 per phone. I kept all the money from my profits and I bought other phones and there came a time when I bought from 30 to 40 phones per month. I was making $ 3,000 to $ 4,000 per month from home by selling cell phones! A little later, someone saw that I liked being in business and introduced me to network marketing in 10 minutes, thanks to a video. I found that the concept of network marketing made sense and I decided to join the company because I thought the investment was ridiculous and there were endless possibilities. I must admit that initially I was still a little skeptical and wondered if it would work for me. I knew it was possible for other people because after doing some research, I saw that there were people who were successful but I was not sure I was going to succeed. Despite my doubts, I started. I thought that the worst thing that could happen was to lose $950.In the beginning, I had big dreams, I was motivated and I thought everything would be easy. Then I began to go through network marketing difficulties. Why? Because after making that money in the beginning, I thought I was good, I thought that I did not need to do anything, that others would work, that it was a concept of 2 that find 2… and that we'd all be rich. I quickly realized that this was not the case and I lost all of my team. Everyone stopped working. Why? Because they had no motivation, they had no idea of how to get where they wanted and I did not help them. No one can grow up without help. So there were many months where I was not making ANY money and my mentor told me that to resolve the situation, I had to read and to do personal development. I saw the situation positively because I thought to myself that even if I was not making money, at least I was learning during that time. After a year in this industry, I decided to go full time. I stayed with my first business in network marketing for two years. After 11 months I started to do generate a fairly good income. I was making between $ 6,000 and $ 8,000 per month. At that time, I went to see my father and I told him that I did not want to go to school. Despite the good relationship between me and my father, he did not agree at all with me and did not want me to stop going to school. I tried to bring the subject to the table several times without success because it was creating a gap between us.
Has built an organization of 12,000 entrepreneurs
His organization generates + 10 Million $ a year in revenue
Has travelled to more than 20 countries with his business
Has helped dozens of entrepreneurs create an income of +100K a year
25,000 + people see his inspirational posts every week on Facebook.

Has built an organization of 12,000 entrepreneurs
His organization generates + 10 Million $ a year in revenue
Has travelled to more than 20 countries with his business
Has helped dozens of entrepreneurs create an income of +100K a year
25,000 + people see his inspirational posts every week on Facebook.
Later, when my father asked for updates on my network marketing business, I always answered that everything was great, even if in reality I was not at all doing well. I was $ 20,000 in debt with credit cards and a bank loan and I had even borrowed money from my father, telling him that I would soon receive my checks. At one point I did not have the choice to tell him about my situation and I revealed that I was $ 20,000 in debt. He really was not happy. He said: "You have wasted two years of your life, you did not go to school and now you have all this debt. It cost you more than going to school and you know I would have paid for you to go to school. You have learned nothing and after two years you achieved nothing. " He then asked me what I would do now, and if I was going to go find a job. I said no, I was not going to find a job, I would simply continue in network marketing. That's exactly what I did. Despite this, my father kept telling me I had to go find a job.
Finally, I decided to listen to him, to actively seek employment and to attend interviews. Having read many self-help books and business books in the two years with my first network marketing company, to I was able receive six job offers as a sales representative, one with a salary of $ 100 000 per year, with automobile and telephone provided. It was quite remarkable to receive such offers at twenty years old. With this news, so I decided to call my father, but before the call I looked in the mailbox and I found my first check of recurring income from my network marketing company, for an amount of $1500, which After taking that decision, I made $1500 in residual income.
It seemed like a lot, especially as I had done almost nothing, considering the fact that I had spent my time looking for a job. When I reached my father, I said, "Hi Dad, I have good news, I received a sixth job offer for a position at $ 100,000 a year, with car and phone included. " He said it was extraordinary, that he was proud of me. Then I told him, "I also have more good news for you dad: if 6 people want me to work for them, well I decide to work for myself! ". The next month I made over $ 10,000. The following month: more than $ 25,000, plus a bonus check of $ 25,000 for a total of $ 50,000. 4 and a half months after taking the decision to continue in network marketing I had an average income of $ 40,000 per month. To date, even if I do not live with my parents, I still keep my parents address for checks I get because my biggest motivation was to prove to them that I was right, that I could achieve my goals, my dreams and especially to prove to them that it was possible.
With this success, I was also able to help my mother also generate income in network marketing and I was able to offer a dream trip to Italy to my parents as a Christmas gift. I also brought my mother on trips to Las Vegas and Florida, as well as taking my whole family on a cruise. Now my goal is to help as many people as possible to be successful in my team, because in network marketing, even if you make a lot of money, if your team does not make a lot of money, you cannot succeed long-term. So by helping as many people as possible to make money, it solidifies your team and your company.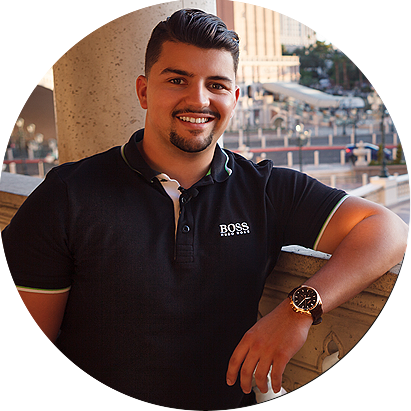 Here are Thomas Poulin's short-term goals: To help as many people as possible to succeed in network marketing with the blogs and programs I am creating. I want to inspire young people to start their business, especially those who have difficulties in school because where I come from, people around me told me that without school, I would achieve nothing in life and that I would be a loser. So I can understand what a young person who does not like school is going through. When we are told things like that, it affects our self-confidence. Everything I am doing now is in line to help other people to realize their dreams in network marketing or start their own business. I want to give them all the tools they need: motivation, inspiration, help with branding, steps to follow to be successful and have an incomparable lifestyle. I have enormous gratitude for everything I have experienced, what I have learned, the abundance and the kind of lifestyle I have now in my life, but especially the people I have met.
"MY PASSION IS TO HELP OTHER PEOPLE TO START DREAMING AGAIN, TO BELIEVE IN THEMSELVES AND TO REALIZE THEIR DREAMS."