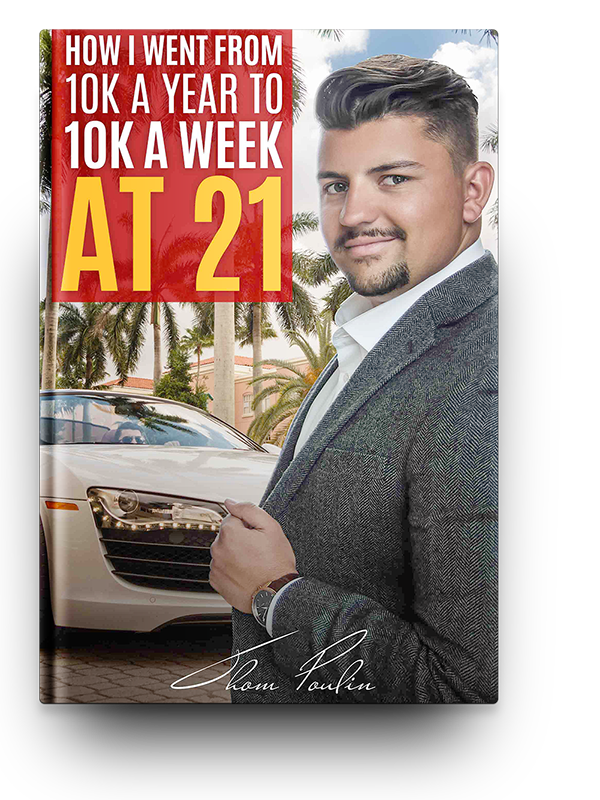 HOW I WENT FROM 10K A YEAR TO 10K A WEEK AT 21
My desire to become an entrepreneur began with my family: my father and my grandfather are entrepreneurs. I finished high school and I went to College in accounting and management because I thought I wanted to build a company later on, but I did not know yet what kind of business it would be.
In fact, it all started when I was working part time at a convenience store. I saw a cell phone for sale on Facebook and I decided to buy it. I then posted an ad on Facebook and resold it for $100 more in just 15 minutes. Working at the convenience store, I was making $10 an hour, and in selling this phone I had made $100 in only 15 minutes. It really was at that point that I realized that I wanted to be an entrepreneur because I could have what I wanted, I could decide what I wanted to do with my time, no one could tell me what to do, everything was possible and there would be no limit to what I could achieve.
With this new decision, I decided to announce to everyone on my facebook that I was now selling cell phones. I then received at least 50 messages from people who wanted iphones. I had no phones in hand but I told people that everything was perfect and that I had phones for them. I thought I could find a phone provider but I realized that it did not exist. So I decided to ask all the people who had messaged me for a $150 deposit towards their new cell phone because I told them that there were so many people who wanted phones, and if they wanted to be sure to get one, they had to give me a deposit.
"Thomas is the most passionate young entrepreneur I have ever met. His vision makes the dreams of people he meets feel possible again and he gives them simple and practical solutions to make them happen."

"Thom is someone with a strong desire to help others, he has a vision that greatly resembles the one that the most influential people I know have. He is a friend, a business partner, but also a person who inspires so many people around the world."

"I have had the chance to meet Thomas a couple of years ago. Beyond being a good friend, he is always there to help others. Thomas is someone who seeks nothing less than excellence but does not want to do it alone, so he always seeks to impact the lives of other people and inspire them to rush towards success with him."
PROGRAMS

WITH THOM POULIN
This package is a step by step guide for anyone to become financially free, wealth and to build an outstanding life with the best tools the world we live in has to offer. It's possible for you to make it now but there are things to think about: With a job it's impossible to be rich. If you don't come from a rich family, it's hard to start your own business. In this package, I'm going to open your eyes to a way to create complete financial independence today that requires NO EDUCATION, NO INVESTMENT and where it is possible to generate millions of dollars: NETWORK MARKETING. There are steps to follow to have success. In my first two years I did not have the success I wanted, I put in so many hours and money, I learned a lot but it was extremely hard. With this package, my goal is to save you years of struggle, tons of money and enable you to realize your dreams right now and to have a clear understanding of how to do so.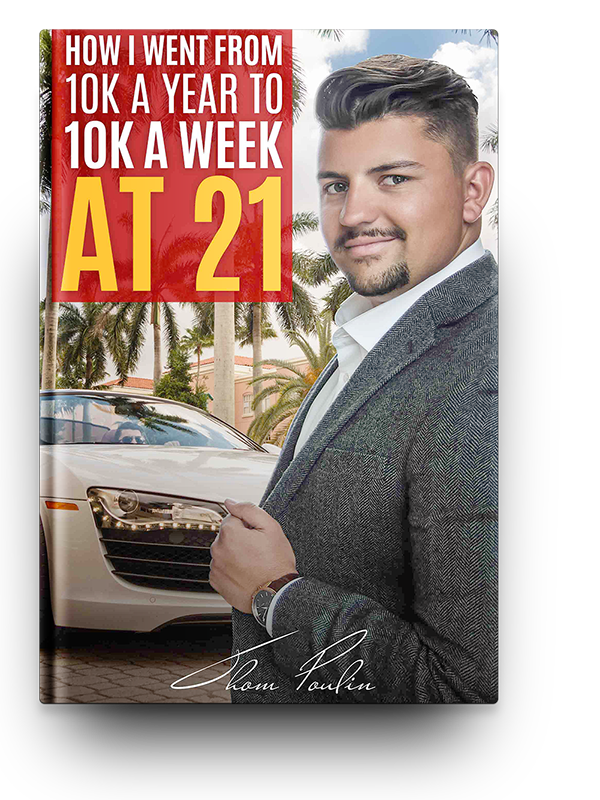 HOW I WENT FROM 10K A YEAR TO 10K A WEEK AT 21